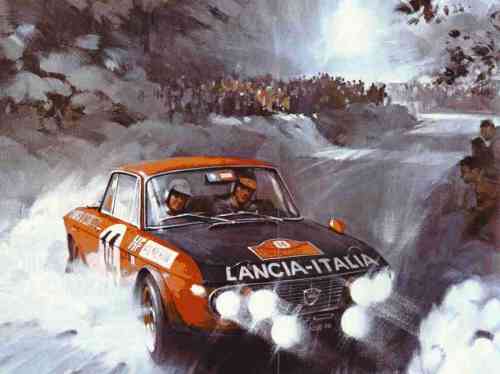 "If you want a beautifully-engineered classic car that is entirely practical for everyday use, fast enough to keep up with the modern traffic, economical to run, and not so complicated that maintenance becomes a nightmare -- think about a Fulvia. It is probably the most affordable piece of high-quality machinery that will meet all these requirements."
I loved my Fulvia, and wrote about it in one of my novels. It broke down in all the best places. The head warped and I needed a new gasket every month: so did the Fulvia. Finally, I sold it at auction. It was brown with cream leather seats. It was rusting in the usual places. I was more patient with it than with anybody or everything. When it was sold, I saw it again for the last time, sitting under a street lamp, broken down again. I had to cross the street and say goodbye. It was silent and sullen as usual. It was a person, and had a soul.
Myrna Combellack, salisbury@freenet.co.uk. Feb 2000
I live in Breda, which is in the south of the Netherlands, very close to the Belgian border. Since I started using a Fulvia Coupé as every day car in September 1995, the number of Fulvia's in Breda has gone up considerably. There are more Fulvia's in Breda now than there were in the sixties and seventies. Let's keep up the good work.
Huib, Email:
DE CARBONTM shock absorbers. The best shocks for your Fulvia
Fulvia Q & A, questions and answers.
Restauro della Fulvia berlina 1C di Michele Dimauro
Wayne Marsula's Reminiscenses of racing Fulvia's at Daytona and Sebring.
Tassos, Son of Zeus and his Fulvia
Fulvia Club by Piero Vanzetti.
1.6HF wishbones made by Florian and Helmut.
New parts and tools from Florian.