It is well known in Lancia circles that famous racing drivers have used Aurelia B20s and Flaminias as their regular cars: Taruffi, Hawthorn, Collins, and Fangio, to mention a few. This comes as no surprise, as the Aurelia and Flaminia had, by Italian standards, large engines with plenty of power and state-of-the-art suspension systems.
However, it is the Augusta with only a 1,200cc engine that can lay claim to having been the Lancia to be held in high esteem as an every-day car by the contem­po­ra­ry racing fraternity.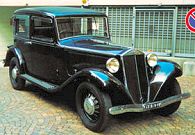 Tazio Nuvolari, Italy's most famous pre-war racing driver, is well known to have loved his Augusta. In his youth, Tazio developed a family reputation for getting a lot of speed out one horse power, when he would jump on to a horse from the family stable and gallop off, sans saddle, stirrups, and bridle. So, yes, by his boyhood standards, the Augusta's 35 BHP, provided plenty of zipp, but later on he was racing Maserati, Alfa Romeo, Bugatti and even the horren­dous­ly powerful Auto Union racing cars with some 520 horsepower on call.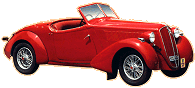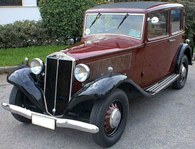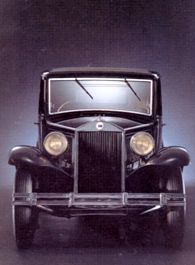 Note from Huib Geurink, your webmaster.
In 1935 mechanics at the Lancia dealers in Italy went on strike. The Augusta was so reliable and needed so little maintenance that they feared they would loose their jobs. Perhaps it is the "truest" Lancia. It certainly is the most undervalued Lancia. Except by the famous race drivers. They recognized an outstanding car when they saw one and above all, when they drove one.
I bet Vincenzo is driving an Augusta up there!
The racy appeal of the little Lancias!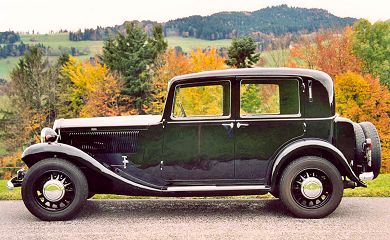 So what made the Augusta so appealing to such an expert fast driver? Mind you not everybody thought he was an expert driver: at the start of the 1st World War, Tazio joined the army as a driver. After a time he was sent to Sicily, where he was to experience a bitter moment. He had to drive a lieutenant from one end of Palermo to the other. The lieutenant was in a hurry, Tazio drove with his usual skill, but the officer, who hardly knew him, must have been badly frightened, for when they arrived he got out of the car and remarked to Private Nuvolari "You will never make a career out of motoring. You weren't born to drive" (Army bit from pages 26/7 'Nuvolari' by Count (Johnny) Lurani, pub. Cassell - London, 1959)
So again, back to the question of what made the Augusta so appealing to racing drivers of the thirties? Of all the different models of Lancias I have driven, I think that the Augusta stands out for the shear preciseness and delicacy of its controls. The steering, in particular is so light and precise, likewise the gear-change. Naturally, being a Lancia, the Augusta's handling was so much better than its contemporaries, having the basics of independent front suspension, a very rigid monocoque saloon body and hydraulic brakes. Its OHC engine was also very responsive and free-revving.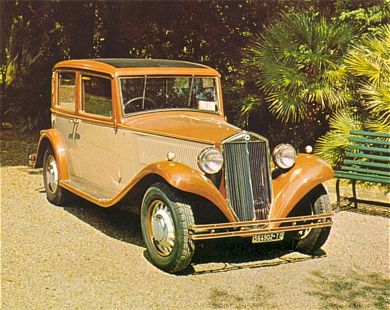 Other prewar racing drivers generally known to have had a soft spot for the Augusta include Luigi Fagioli, Antonio Brivio and Achille Varzi. Another famous prewar racing driver who liked the Augusta, was the French driver, Rene Dreyfus. This became known to me when I had the privilege of visiting him in America in 1992, just a year before he sadly passed on. He wrote "It was nice to meet you and talk about the make we both love, for you it is the "Lambda" and for me it is the "AUGUSTA" and both of them are Lancias. Continue to love them Paul, they were marvellous cars!"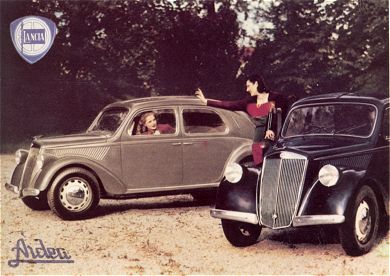 I trust that this snippet will draw attention to the fantastic merits of the "slower" little Lancias, but you don't have to take my word for it, just believe Fangio, Nuvolari, Fagioli, Dreyfus, et al. If you know of other cases of racing drivers who had a soft spot for the Augusta or Ardea, please drop me an email at

paul@viva-lancia.com.
Happy Lancia motoring!
Paul Vellacott,


Email: paul@viva-lancia.com,
Australian Lancia Register,
Melbourne, January 1st, 2003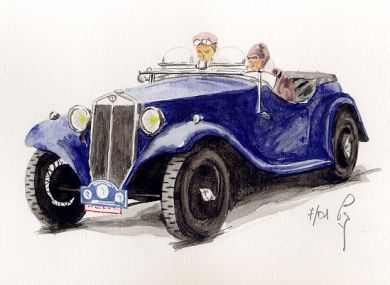 Top of page

Snippet 1: Vincenzo Lancia wins 1904 Florio Cup

Snippet 2: Innovation, sophistication, simplicity

Snippet 3: The luck of the French

Snippet 5: The power of a clean drawing board

Snippet 6: The Loosmobil

Snippet 7: Foibles of the …………. Aprilia

Home page of viva-lancia.com
A further example of a famous racing driver's appreciation of the merits of a small Lancia to which I have also not seen other re­fer­en­ces, is none other than Juan Manuel Fangio. This time I had the even greater privilege of having Fangio 'drop in' to my home workshop back in 1978, on my Birthday, by complete coinci­dence.
In 1949 the Automobile Club of Argentina and a number of businessmen sponsored Fangio to compete in the Grand Prix series. Driving a Maserati 4CLT/48 he achieved an aston­ish­ing six wins from ten starts. Not surprisingly, he was then 'signed up' as a 'works' driver with Alfa Romeo for the 1950 season. As an Alfa works driver he was given an Alfa as an every-day car.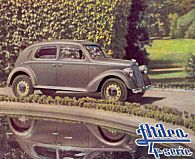 On seeing my Ardea, he smiled, sighed and said in Italian: "I was very sorry to have to sell my Ardea when I started to drive for Alfa Romeo, it was such a clever little car". He then went on to recount in Spanish a funny story about selling the Ardea. A lady respon­ded to his advertisement and he took her for a demonstration drive, after which she bought the car and drove it away.
A couple of days later, she returned, claiming something had gone wrong with it. She said that it was now much slower than when it was demonstrated to her (Hardly surprising, when you take into account the demonstration driver). Anyway, Fangio took her out for another short drive and the car went quickly to 106 KPH, as it had done on the first demon­stra­tion. Note: only in Italy would a prospective female buyer of a second hand car bother to note the top speed of a car during a short demonstration run.
The lady apologised for bothering Fangio and drove off satisfied that the car was not defective. However, a day later, she was back to say that when she drove it flat out, the car would only reach 93 KPH.
It was than that the lire dropped! Fangio had omitted to point out that the Ardea had a cinque marce (5 speed) gearbox and of course it had to be in fifth gear for the little 903 cc car to reach 106 KPH! The Ardea was the first production car with a five speed gearbox, something that only a small proportion of the public would have been aware of at the time.