In discussing possible features of the viva-lancia.com website, Huib Geurink, the site's host suggested an old-time Lancista, such as myself might like to contribute stories about Lancia from personal experience, or lesser known aspects of Lancia's history.
To start the "Snippets" section rolling, I thought it would be appropriate to recount a Lancia story from the days before Vincenzo Lancia established the Lancia company in September 1906.
Paul Vellacott
Australian Lancia Register
May 2002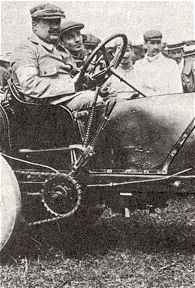 Vincenzo Lancia. 1904.
Vincenzo Lancia averages 115.7 km/h in 1904
Most Lancisti know that Vincenzo Lancia became an employee of F.I.A.T. on the formation of the company in 1899. His initial role was as test-driver, in which capacity he displayed outstanding driving ability. This led to his promotion to what would later be known as "Works Driver". As such, he drove for F.I.A.T. in events like the Gordon Bennett races, the infamous Paris - Madrid of 1903 and two Vanderbilt Cup races in the USA. While out-right victories tended to allude Vincenzo (blocked fuel pipe, 1904 Gordon Bennett; stone-damaged radiator, 1905 Gordon Bennett; broken valve gear, 1908 French G.P.), he was noted for often achieving the fastest lap time. (1905 Gordon Bennett; 1905 Vanderbilt Cup; 1906 Coupe de Auto; 1908 Florio Cup)
One event he did win for F.I.A.T was the 1904 Florio Cup, a two-lap road race between Brescia, Cremona and Mantua starting and finishing at Brescia, later to become well known as the Start/Finish of the Mille Miglia. The two laps involved 370 Km, which Vincenzo covered in 3 hours, 9 minutes and 56 seconds, recording an average speed of 115.7 KPH, or 71.88 MPH.
To demonstrate the driving skills of Vincenzo Lancia, just imagine trying to average similar a speed for 370 Kilometres on un-sealed dirt roads, in your modern car after the following modifications:

front brakes disconnected


front shock absorbers removed


worn-out shock absorbers fitted to the rear


very narrow bald tyres fitted all-round


centre of gravity raised 20 centimetres


body and windscreen removed


not to mention minor things like broken synchromesh
Here in Australia, with almost one hundred years of progress in automotive and road design, we are not even allowed to "touch" 115 KPH on our Freeways, let alone average such monstrous speeds!
Good on you, Vincenzo!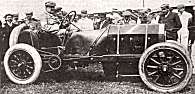 Vincenzo Lancia on the 1904 F.I.A.T. Racing Car.
When asked to visualise a 1904 motoring event, many would recall television coverage of the annual London to Brighton Run which is restricted to cars made up to 1904. On the Brighton Run, some spectators ride bicycles and are able to keep up with the participating cars, even on the fast stretches. The 1904 Florio Cup was a very different event!
Cagno on the 1904 F.I.A.T. Racing Car.