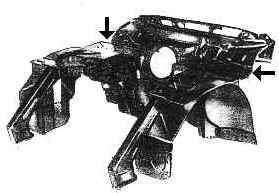 The picture on the right shows the front chassis section of the coupé: each side has a purpose made injection hole which with difficulty can be seen after lifting up the bonnet (hood). It is easier to feel the hole by running a hand over the flat surface of the top of the chassis section moving backwards to the bulkhead of the car. Remember that the aim is to treat the box section behind the wheel arch where the rear subframe leg is bolted. For this you need a rather long piece of tubing.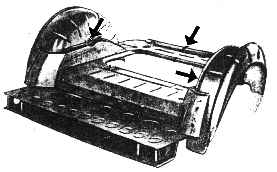 The picture on the right shows the corresponding section of the boot area. Here the holes are clearly visible at the center of the wheel arches after lifting up the boot lid. Insert the long piece of tubing as far as it will go first forward and then backward while spraying all the time. Still in the boot area there is a large hole just at the center of the rear cross member which inside corresponds to the bottom edge of the number plate (which is of course outside). Again insert tubing leftward and rightward and spray all the time.
It is important to note that sucessfull injections are indicated by the fact that the waxoyl will slowly find its way out through drain holes both at the front and the back. For this reason cover the floor area with old newspapers otherwise you get a very messy floor. If no fluid comes out either you injected the wrong area, or the drain holes are blocked by dirt, or the fluid is too thick. In general, it is better to treat the car in summer because the warm temperature will make the fluid to flow more easily.
Waxoyl can be diluted with white spirit (up to 10% dilution) to reduce its viscosity. Standard plastic tubes for injection are not always ideal because they spray in only one direction. In order to have a homogenous spraying pattern plug the tube end permanently and with a red-hot needle make a number of small holes in the last 2 cm of the tubing section. This will ensure spraying in all directions. Sills may or may not possess injection holes. Some holes may be found inside the car where the sill joins the floorpan. It is usually necessary to remove the rubber carpets
-Andrea-