Precision built oilpumps for Fulvia.
The picture below is copied from the technical Databook of the Fulvia.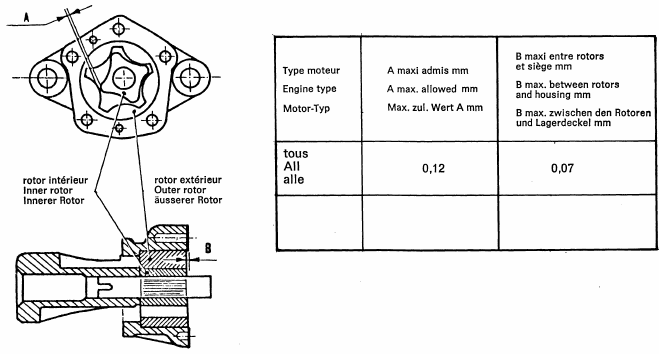 The table lists the maximum values for the clearances between rotors (0,12mm max) and between rotors and cover (0,07mm max). These clearances are maximum values. If they are exceeded the oilpump has to be replaced. Most Fulvia's run with oil pumps that have even larger clearances which results in low oil pressure and low oil supply to crankshaft bearings and camshafts.
We rebuild Fulvia oilpumps to clearances which are half the value of the clearances given in the table. High precision new rotors are precision ground to within 0,005mm. Also the housing and cover are precision ground. Even the inside bottom of the housing (which is really the top of the oil pump as it is mounted upside down) is precision ground using specially manufactured tools.
The result is excellent!
On Elena, my 1967 coupe 1.3, the oil pressure is at half scale just under 2000 rpm and at full scale just under 3000 rpm with warm engine (which is wamer than usual as I use a 89 degree C thermostat) and 20W50 oil. The crankshaft bearings have 80.000 km on them. The oil pressure sender is the 0 - 6 bar type. See also the Fulvia Q & A.
Price of the oil pump on an exchange basis is 218,50 € excl VAT, 260 € incl VAT.
In the EU price incl VAT applies unless you have a valid VAT number.
Outside the EU price excl VAT applies.
Postage is 20 € inside Europe and 40 € outside Europe.
Contact Huib, huib@viva-lancia.com for more information.
Click here for payment information.