Dunlop
wheel brake cilinders
for
Fulvia Flavia Flaminia
Modern brake technology for your Dunlop brakes.
The cilinders are made from hard anodised aluminium.
The pistons for the front cilinders are made from stainless steel.
The pistons for the rear cilinders are made from hard anodised aluminium.
Both the design and the materials eliminate corrosion.
The design does away with the complicated retraction mechanism inside the piston and the pin of the original Dunlop wheel brake cilinders.
Retraction is such that the pad is left against the disc (without pressure) preventing any dust or water film being built up on the disc. Response is immediate.
Less pedal pressure as there are no retraction springs inside the pistons. The retraction from the trapezium seal is 0,1mm. If more retraction is needed because of a wobbling disc, the disc will push the piston back just as far as needed to leave the pads against the disc without pressure.
Use pads with a steel back plate such as EBC DP2120 or DP3120. The steel back plate is already attached to the friction material. See the green picture below. Do not use the old fashioned pads. The modern pads are backward compatible with the old fashioned pads. You can also use them with the original Dunlop pistons which have the "mushroom" on top.
In the box with the pads is fibre material for noise elimination. You may cut that to size and stick it to the back of the pads.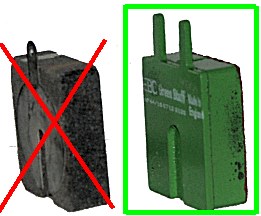 Delivery includes 1/4" UNF x 1" Allen key bolts and the right bit for the bolts.
Prices

Size
Excl.
VAT
€ each
Incl.
21% VAT
€ each
2 1/8" (54mm)
190,00
229,90
For front of Fulvia, Flavia, Flaminia
1 1/4" (32mm)
190,00
229,90
For rear of Fulvia, Flavia
1 1/2" (38mm)
190,00
229.90
For rear of Flaminia, Flavia
Note, that you need 4 wheel brake cilinders per axle. Two for each wheel.
Sets of spare seals (pressure seals plus dirt seal) for 4 cilinders.
Front (2 1/8"): € 41,00 excl. VAT, € 50,00 incl. VAT
Rear ( 1 1/4"): € 29,41 excl VAT, € 35,00 incl. VAT
Note that the complete cilinders include seals. You do not need to order these seals unless you want them on your shelf as spares.
Set of EBC DP2120 brake pads: € 90,00 excl VAT, € 108,90 incl VAT.
One set includes 4 pads and is for one axle.
In the EU price incl. VAT applies unless you provide a valid VAT number. Outside the EU prices without VAT apply.
Postage
Inside the Netherlands: € 10
Inside Europe: € 15
Outside Europe: € 30
More information and to order: Huib Geurink,
Email: huib@viva-lancia.com,
Phone +31.6.53458044