Pin for brake servo of Flaminia and Flavia.
François-Xavier Bourin
fxbourin@club-internet.fr.
Sep09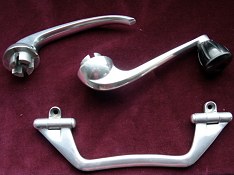 Flamina Zagato and Appia Zagato parts.
Patrick Wagner
pwagner2@gmx.net.
Aug09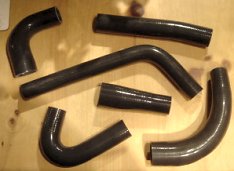 Flaminia and Flavia hoses.
Newly manufactured hoses in polyester silicone for Flaminia and Flavia, both twin and single carb. I am prepared to make other hoses if an original is available.

Dave Gee
dwg45@hotmail.com.
+44 1530 230971
Feb06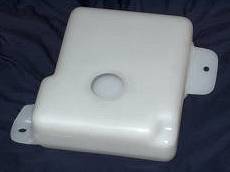 Beta LHD Washer bottle
This is the last prototype of our reproduction LHD Beta washer bottle. It is the same shape and almost identical in size. Due to the process involve the mount that looks like a U has been changed to a similar shape as the RHD version.
Cost is GB£46.00 each.
We have a reproduced cap at GB£4.00 each, which will be available soon.
betaboyz@msn.com or +44 146064325
Dec04
Beta: gearlinkeage, engine mounts, glove comp. catches door stoppers. wishbone bushes, sunroof pads
Montecarlo: bonnet catch
Lancia Ersatzteilservice C.C.
sales@lancia.co.za
Apr00
for S1, S2 Fulvia & 2000HF: steering wheel hub adaptors
for Flavia: water pump noses
for Fulvia: crankshaft oil spray nozzles - these often break see Fulvia Q & A, carbon fibre bonnets - very light and strong
for Aprilia S1: door glass, front screen and rear screen
Omicron Engineering Ltd
Andrew Cliffe, andrew@omicron.uk.com
Mar98
Mail huib@viva-lancia.com , if you have parts to add!