Dear Huib,
I would like to take up this opportunity to thank for having built such a lovely and interesting site, thus giving us enthusiasts the chance of sharing our motoring thoughts and experiences.
First of all I must say that our Government has finally realized the importance of the preservation of our motoring heritage: next year we won't have to pay road tax like any other modern vehicle (our vehicles don't get used on a regular basis after all).
I've also been informed that the cars that end up in the breaker's yard won't get crushed after the usual 180 days. This will give them more of a chance of getting salvaged or of providing useful and sometimes unobtainable spares.
To tell you the truth, not everybody is in favour of preservation, and I often have rows with rude and ignorant people who invite me to scrap my 1963 Fulvia Berlina, the car I lovingly preserve and to which I dedicate all my spare time (and spare cash!!). But it's so satisfying when the work is carried out to good effect. Maintenance is simple and it develops a loving relationship with the car that is seldom developed with a modern car.
Let me tell you the story of my Fulvia, in order to explain to you how a humble car can develop into something really special, that transcends the mere economic aspect.
My father bought it second-hand in 1974, in an auction for ex official Ministry of Internal Affairs "blue" vehicles. I was only 4 years old but I still vividly remember that day. He arrived honking merrily under our home after picking it up. It was perfect: deep blue and glittering chrome all around. We had only had a Fiat 600, and the new car represented the wealth reached by our family. He then drove us around the hills and we will keep that afternoon forever in our hearts. Years have passed but the car is still in our family.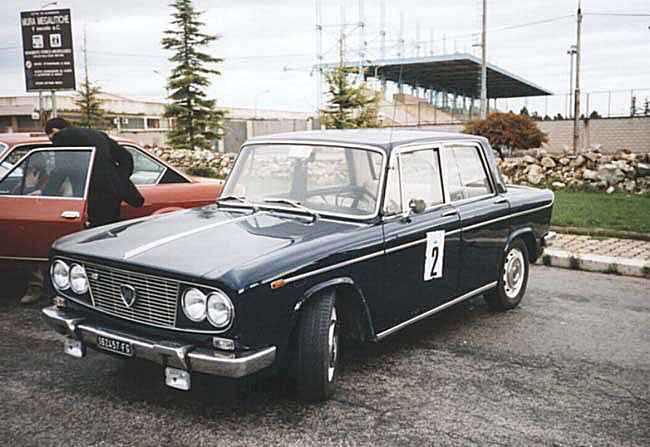 In 1988 I got my driver's license and I finally started driving it, although I admit I had been driving it since I was 11! It has taken me to University until my graduation, it takes me for walks along with my girlfriend, and she's always with me on holiday. But, most of all, it's been the companion through my happy days: how could I scrap it, like somebody would want me to?
The engine is as good as new, with only 20.000 km, and every time a strange noise comes up, she goes straight to the mechanic. I've cured the lack of power typical of this model by fitting a complete 2C head and by polishing the inlet ducts, I've improved the braking system and everything else I could. She's now ready for long journeys, but also for a good "hammering"!
Doing the rounds among the breaker's yards looking for a door, I've come across quite a few specimens like mine. The one from which I got the door had already been crushed under the weight of three other cars, but the breaker had willingly decided to save everything: engine, interiors, body panels. He then had to reluctantly crush it because of the 180-day rule. Judging from the parts salvaged, the car must have been in excellent condition and had probably been scrapped following the owner's death. I would have given it away just to save it!
A perfect GTE was lying underneath 2 other cars. The roof wasn't even caved in, and I even managed to open the doors with ease! It had ended up there because of the incentives to scrap! I could go on and on, but I won't bore you.
I can only say that driving my Fulvia home that afternoon, I was taken by a sort of sadness.
I will leave you now, and I wish you all drive our wonderful cars for a very long time yet, as long as petrol lasts!
Best Regards
PS: I also include a pic of my car hoping to maybe see it on the site
Michele Dimauro