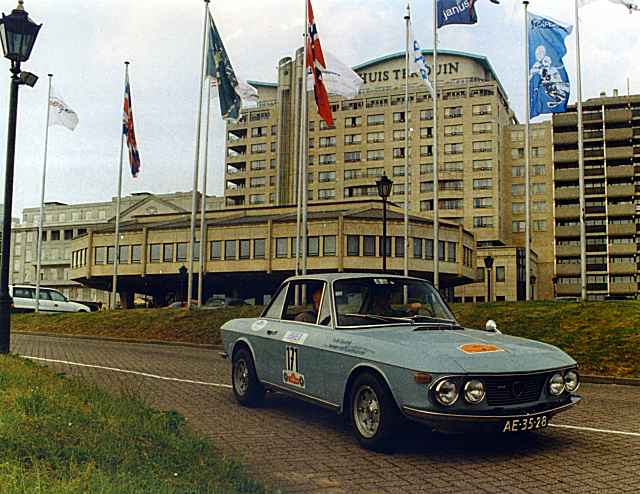 Day 1, Monday, April 14, 2001, 11:51, Noordwijk, the Netherlands.
150 meters after the start of the Tulpenrallye 2001.
Tina is well prepared this time. After the failing head gasket during the 2000 Tulpenrallye, I rebuilt the engine a year ago and optimised the jets of the Dellorto DHLB35 carburetors on a rolling road tester.
For the 2001 Tulpenrallye I replaced front and rear springs, top and bottom ball joints, track rod ends, central track rod, steering box, steering idler box, dynamo, startermotor, rear wheel brake cylinders, brake pads, front tires, all four wheel bearings and the bearings of the radiator fan.
Day 1 took us on an easy route from Noordwijk to Brecht, Belgium, where we left the motorway for more difficult stages on the small country roads through the Belgian Kempen and the Belgian and French Ardennes to Verdun, France. Day 1 was not a bad day for us.
Day 2 took us through the French Vosges and Jura to Malbuisson, France. Malbuisson is on lake St. Point, just north of Geneva. Again a pretty good day for us.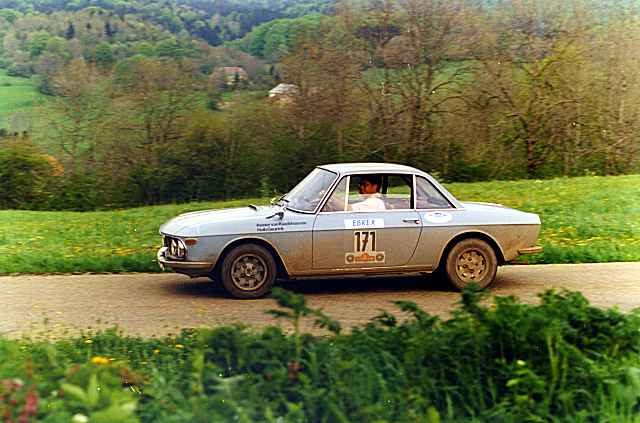 Day 3. A long loop south from Malbuisson through the French Jura and Alps and back to Malbuisson
For the Tulpenrallye 2001, cars had to be older than December 31, 1968. A high number of Lancia's turned up:
Vintage class (only open for pre-war cars): none
Touring class (somewhat shorter and lower average speed)

1 Aprilia
1 Aurelia B20
2 Flavia S1 coupé's
1 Fulvia berlina GT
1 Fulvia coupé
1 Flaminia Touring GTL

Sports class

4 Fulvia coupé's (including one from Denmark)
1 Fulvia berlina GT


A dirt road on day 3. The real bad roads (dirt, mud, pot holes) don't show up on the pictures as the photographers simply didn't dare to go there..


Day 4, near Soulnot, France. On the leg north from Malbuisson to St. Avold (France, near the borders with Germany and Luxembourg).


Day 5 in Luxembourg. On the leg from St Avold to Aachen (Germany) via Luxembourg and Belgium.


One of the route controls we did find on the afternoon of day 5 (Friday). We did pretty good on most sections, but goofed quite a bit on this afternoon missing 9 route controls. We tumbled from 18th over all to 23rd on this afternoon.

Quickly back in the car after stamping the card.

Day 6. No pictures of this day. We were surprised with a special stage on the test track of DAF. We did well and climbed to 22nd over all by the time we reached the finish in Noordwijk on Saturday around 16:00.

Tina did extremely well. She used 2 liters of oil and needed an adjustment of the hand brake in St. Avold. I have juste checked the suspension ball joints and track rods. Bottom ball joints are OK. Top ball joints have over 1 cm of play (after less than 5.000 km). 3 out of the 4 track rod ends are bad again after less than 4.000 km. If any of you knows of better track rod ends or suspension ball joints than the FRAP ones, let me know at huib@viva-lancia.com .

All but one of the Lancia's finished. Marc and Bart de Bruijn had to give up with their Flaminia on day 5 after ruining the clutch when trying to get out of axle deep mud.

To my great surprise the 1948 Aprilia with Bart Kleyn and Henk van Montfoort finished 12th in Tour class!!!! Even after missing 3 complete stages because of a broken V-belt. The resurrection of the Aprilia as a rally car? I would not hesitate to participate even in Sports Class with a well prepared Aprilia.